How to add WMS GIS layer to ZWCAD drawing step by step tutorial.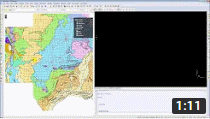 Download & install Automapki application on your system.
Start a new ZWCAD drawing editing session.
Specify your base coordinate system with AMSETCOORDSYS custom command.
Add a new WMS layer to your drawing with AMWMSLAYERS command.
Execute AMSHOWBROWSER command to show Automapki maps browser.
Use AMINSERTTILEIMAGES command to insert map tiles as a background for your working area.