How to mesh nurbs surface with the given quality step by step tutorial.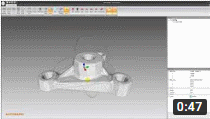 Launch Autoconverter software in a standard way.
Import your input 3D nurbs model from STEP or IGES file format.
In the open dialog box specify required mesh tessellation quality.

Higher quality value results in more dense mesh.
Lower quality value helps to decrease file size.

Save & export converted surfaces into your final 3D file format.