How to consult mass properties for meshed objects step by step tutorial.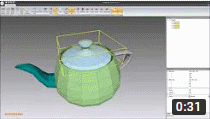 Start Autoconverter program on your system.
Import and load your meshed object from any supported file format.
From the groups view select your input sub-mesh or the whole structure.
Click on Mass Properties button from the Edit Mesh ribbon group.
Mass, centroid, moments of inertia, radii of gyration are printed in the dialog box.