How to import 3D model with texture images into AutoCAD step by step tutorial.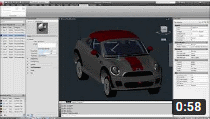 To download & install 3D mesh files importer into AutoCAD please go to the Automesher application product page.
Start your favorite CAD editor, either AutoCAD, BricsCAD or ZWCAD, and the Automesher application will load automatically.
Click on the import mesh ribbon button, and navigate to your input mesh file, either SKP, 3DM, OBJ or DAE file.
Please select the new subdivision mesh output entity type, and click on the Open button to finally import your mesh file into the AutoCAD model space.
For each custom texture image a new AutoCAD material is created in the current DWG drawing, and you can modify it later depending on your needs.
Note that the free evaluation version of AutoCAD mesh importer allows for maximum 20 imports only.
Exporting 3D models with custom texture images from AutoCAD will be available with the next Automesher application update.