How to use mesh to solid file converter to convert mesh file into SAT file step by step tutorial.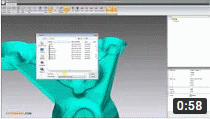 Download & install mesh to solid converter from Autoconverter product page.
Start mesh to solid converter program from the new Windows menu shortcut.
Open & import your mesh file into Autoconverter model space.

3DS, OFF, STL, OBJ, PLY, 3DM, DAE, VRML, IFC & SKP mesh files are supported.
STEP, IGES & BREP solid file formats are supported.

Edit & fix your mesh model geometry for the best mesh into solid conversion results.
Save & export your fixed mesh model to SAT (Standard ACIS Text) solid file format.
Open saved SAT file in your favorite CAD solid modeler like AutoCAD, Bricscad or Solidworks.
The evaluation version of mesh to solid converter allows for maximum 10 conversions only.
Use Automesher application to convert mesh into a 3d solid directly in your DWG editor.