How to convert STL mesh file to solid model step by step tutorial.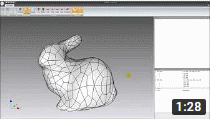 To convert STL mesh file into solid download & install Autoshaper software.
Start STL file converter from the new Windows menu shortcut.
Click on the Open button and navigate to your STL file location.
Define required limit surface quality for automatic solid conversion.
Press the OK button to convert your STL file into a solid shape.
The evaluation version of STL to solid converter allows for 10 conversions only.