How to convert FBX to OBJ file format step by step tutorial.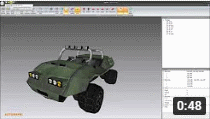 To convert FBX to OBJ file you will need to download & install Autoconverter software.
Start FBX to OBJ file converter from the Windows menu shortcut.
Click on the Open ribbon button and specify your FBX file location.
Press the OK button to import your FBX model into the Autoconverter document.
Click on the Save As ribbon button to save & convert FBX into OBJ file format.
The FBX to OBJ file conversion with Autoconverter supports texture images and UV coordinates.
Note that the evaluation version of FBX to OBJ converter allows for 10 conversions only.