How to convert mesh to nurbs for Rhino step by step tutorial.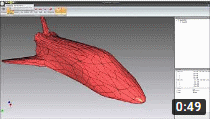 To convert mesh into nurbs download & install Autoshaper software.
Execute Autoshaper mesh to nurbs converter from the Windows menu.
Specify desired limit surface quality for automatic nurbs conversion.
Your mesh model is converted into a smooth Nurbs surface.
Save the final nurbs model to 3DM Rhino file format.
Open saved 3DM file in Rhino software for further processing.
The evaluation version of mesh to nurbs converter allows for 10 conversions only.