How to reconstruct surface from SKP SketchUp mesh file step by step tutorial.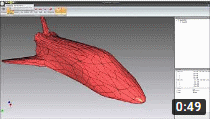 Install Autoshaper software freely available to download.
Start Autoshaper from the Windows menu shortcut.
Open your SKP SketchUp file with triangle mesh models.
Specify desired limit surface quality with the slider control.

Higher quality will result in bigger file size.

Your mesh model is converted into smooth Nurbs patches.
Surface reconstruction is available also for STL, OBJ & OFF mesh files.