How to use Sketchup SKP file converter for FREE step by step tutorial.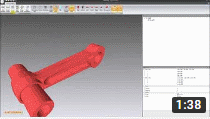 Install the Autoconverter evaluation version to convert SKP Sketchup files for free.
Start the Autoconverter program using the new added shortcut in the Windows menu.
Import your SKP Sketchup file into Autoconverter model space.
Export your Sketchup SKP model to 3DM Rhino file format.
Save your SKP file as an OBJ Wavefront object file.
Convert Sketchup SKP to other 3D mesh file formats e.g. STL, 3DS, STEP and more.
The free evaluation version of SKP converter allows for maximum 10 conversions only.