How to convert 3DM to STEP (Rhino to STEP) file format step by step tutorial.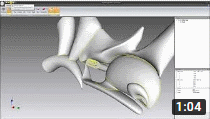 Step 1: To convert Rhino 3DM to STEP file please download & install Autoshaper software.
Step 2: Start 3DM Rhino to STEP file converter by clicking on the new Windows menu shortcut.
Step 3: Click on the Open ribbon button to import your 3DM Rhino file into the Autoshaper document.
Step 4: Optionally update Rhino 3DM model using the functions available from the edit ribbon panel.
Step 5: Click on the Save As ribbon button to export your Rhino Nurbs model into STEP file format.
Step 6: The evaluation version of Rhino to STEP converter allows for 10 conversions only.
Step 7: The reverse conversion from STEP to 3DM Rhino file is also supported by Autoshaper.