How to export and save KML Google Earth map file from AutoCAD step by step tutorial.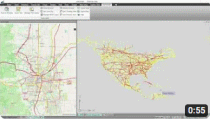 Download & install a free evaluation of Automapki Application.
Type AmExportMap command into AutoCAD command window or just press on the Export Map menu item.
Select a coordinate reference system for your drawing map from the list of 3000 available by default.
Select DWG drawing entities to export and save in KML file format.
The KML Google Earth map file is saved with styled line string and polygon geometries.
Note that the export of compressed KMZ (Google Earth Placemark) map files is also supported.