How to convert STEP file to mesh file formats with Autoconverter step by step tutorial.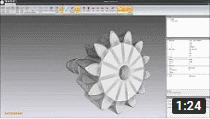 Download & install STEP file converter from Autoconverter product page.
Launch Autoconverter program using the new shortcut added to the Windows menu.
Click on the Open ribbon button to import your STEP file into the Autoconverter document.
Click on the Save As ribbon button to export your STEP model to SKP Sketchup file format.
Click on the Save As ribbon button again to save your STEP file as OBJ Wavefront object file.
Note that the free evaluation version of STEP file converter allows for 10 conversions maximum.