How to convert STEP to STL file using Autoconverter software step by step tutorial.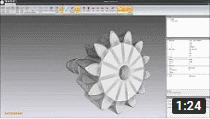 To convert STEP to STL file please download & install Autoconverter software.
Start STEP to STL file converter using the new shortcut in the Windows menu.
Click on the Open toolbar button & navigate to your STEP file location.
Specify tessellation quality parameter for automatic meshing of STEP surfaces.

Higher quality gives more dense mesh but bigger STL file size.
Lower quality results in simplified mesh and smaller STL file size.

Press Open button to load your STEP model into Autoconverter document.
Click on the Save As toolbar button to convert STP into STL file format.
The evaluation version of STP to STL converter allows for maximum 10 conversions only.
The reverse conversion from STL to STEP file is also supported by Autoconverter.